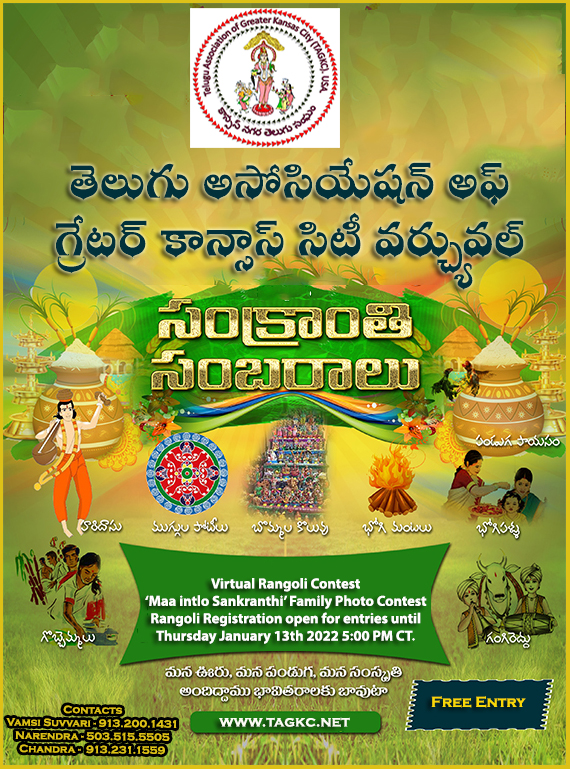 TAGKC Sankranthi Sambaralu – Virtual
Virtual Rangoli Contest Rules
1. 1-2 members in a team. Only one registration entry per team/individual is allowed.
2. Rangoli Adults Theme: Sankranthi Sambaralu
Rangoli Under 18 Theme: Open to your creativity
Floral Rangoli Theme: Open to your creativity
3. Create your Rangoli in the comfort of your home with colors. You can use your own colors at home or TAGKC can provide a coloring kit that includes colors and white chalk powder. TAGKC will contact you about a 'contact-free' color kit pickup location after the registration is completed.
4. Rangoli Size restrictions: Minimum 4 ft and Maximum 6 ft.
5. Allowed props in addition to colors and chalk powder: flower petals, flowers, color sand, grains, lentils
6. Please send us the below information to TAGCK email address registrations@tagkc.net
Picture of the Rangoli design before adding the colors

Picture of you working on coloring the Rangoli. Please make sure your faces are visible and clear.

A clear picture of your completed Rangoli for the team of judges' review. Please ensure the pictures are in high resolution and unedited.

Please note that TAGKC's Executive Committee will not be involved in the judgment process. Participants' names will not be divulged to the judges. Their decision is final and any correspondence regarding the judgment will not be entertained.
7. Our judges will select the top 3 entries from the three categories 'Adults', 'Under 18' and 'Floral Rangoli' (Total 9 prizes). Winning criteria are as follows:
The intensity and the depth of the theme/design.

Detailing and perfection

Color combination and appeal

Creativity and Innovation
8. Completed rangoli entries will be accepted from Wednesday, January 12, 2022 - to Monday, January 17, 2022, 5 PM. Late entries will not be accepted.
| | | | |
| --- | --- | --- | --- |
| Prizes | Adults (Above 18) | Under 18 | Floral Rangoli(Open to all Ageas) |
| First Prize | $100 | $75 | $100 |
| Second Prize | $75 | $50 | $75 |
| Third Prize | $50 | $25 | $50 |
'Maa Intlo Sankranthi' Family Photo Contest Rules
Share a picture of your family's Sankranthi festivities for a chance to win a $50 gift card. No prior registration is needed.
The picture should be sent in .jpg format to registrations@tagkc.net. Please ensure the picture is in high resolution.

Cannot use your old/existing pictures.

Family members in the picture should be dressed in ethnic wear only.

Traditional decorations/props can be included.

Only one picture entry is allowed per family.

Two families that can showcase the true spirit of Sankranthi will be selected by a team of Judges and their decision is final.

Winners will be contacted through email/TAGKC's Facebook page.
Send all the Rangoli and family photo contest pictures to registrations@tagkc.net. For Rangoli competition's completed entries, do not forget to include the team names and participant names in the email. For family contest picture entries, do not forget to include the family names in the email.

Below is the information regarding the winner announcements for both Rangoli and family picture contests. Winner announcements will be announced on January 18th on this TAGKC event page and TAGKC Facebook page. Winners will also be contacted via email.